Destinasjon for gourmet – Havets delikatesser
Her, ut mot Barentshavet finner man verdens beste råvarer. Rett ut fra stuedøra fiskes havets delikatesser for å bli bragt rett inn på kjøkkenet. Den arktiske naturen produserer fantastiske råvarer. Ypperlige kokker med Varangerkokken Tor-Emil Sivertsen i spissen tilbereder råvarene. Dette er destinasjon for gourmet med havets delikatesser. Hit kan man komme fra hele verden for å smake. Vardø hotell har enkel standard, og et fantastisk kjøkken.
  The destination for gourmet with seafood delicacies.
Here, facing the Barents Sea are the world's best ingredients. Straight out of our doors fished seafood delicacies and brings the right into the kitchen. The arctic nature produces amazing produce. Excellent cooks with Varanger chef Tor-Emil Sivertsen spearheaded prepare ingredients. The destination for gourmet with seafood delicacies. Where you can come from around the world to taste. Vardo hotels are basic but a fabulous kitchen. Gourmets destination in Finnmark. Google trans.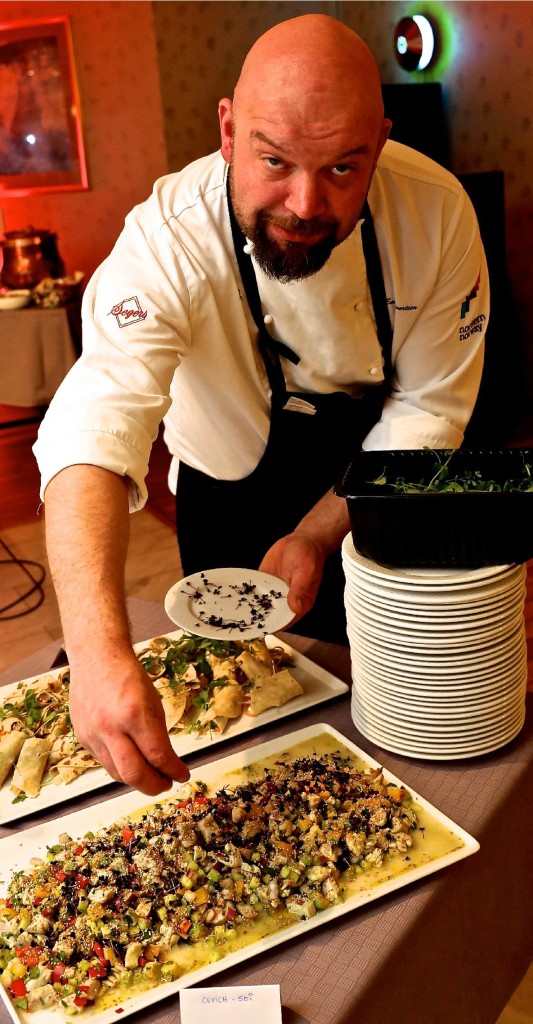 Varangerkokken Tor-Emil Sivertsen er opptatt av råvarene.
Han har spesialisert seg på lokale råvarer i sin restaurant, Varanger Meny as. De aller meste av råvarene er hentet fra Varanger.
Nesten rett på utsiden av stuedøra hentes sjømat, reinkjøtt, lammekjøtt, urter og bær.
– Vi bor i verdens mest fantastiske matregion. Vi må bli flinkere til å samarbeide innenfor turisme og reiseliv, men også bli enda flinkere til å markedsføre og selge til et globalt marked. Tor-Emil elsker Vardø og Varangerregionen. Han ønsker at Varanger skal være et samlet reisemål, for på den måten stå sterkere i markedet. Arktisk mat av høy kvalitet kan bidra i dette arbeidet.
Varangerkokken er en av Vardø og Varangers fremste ambassadører som deltar på kokkekonkurranser, workshop, tv-program i inn-og utland. Han påtar seg også oppdrag innen catering, kokkekurs og andre events.
  Varanger

chef

 Tor-Emil Sivertsen is concerned commodities.
He specializes in local produce in its restaurant. The vast majority of the raw materials are sourced from Varanger.
Almost right outside the front door retrieved seafood, venison, lamb, herbs and berries.
– We live in the world's most amazing region for food. We must become better at cooperating in tourism and tourism, but also be even better at marketing and selling to a global market. Tor Tor-Emil loves Vardo and Varanger region. He wants Varanger should be an overall destination, so as to stand stronger in the market. Arctic high quality food can contribute to this work.
Varanger chef is one of Vardo and Varanger foremost ambassadors attending culinary competitions, workshops, TV programs at home and abroad. He also undertakes assignments within catering, cookery courses and other events.
This year's guest chef at the Arctic party buffet at Lakselv Hotel is Varanger chef Tor-Emil well assisted by Executive Chef Marius, chef Svein Tore, intern Jørgen and chef Vegard
Together tyvefem delightful dishes that the approximately one hundred guests feasted on beyond Saturday evening.
The annual gourmet event in February each year was held for the thirteenth time.
Google trans.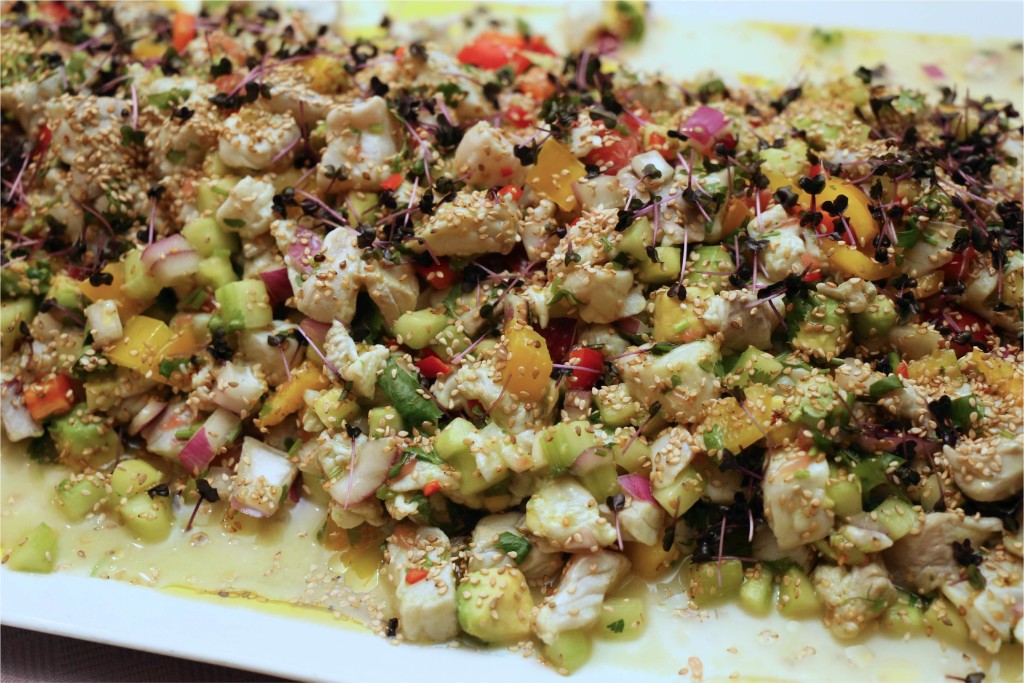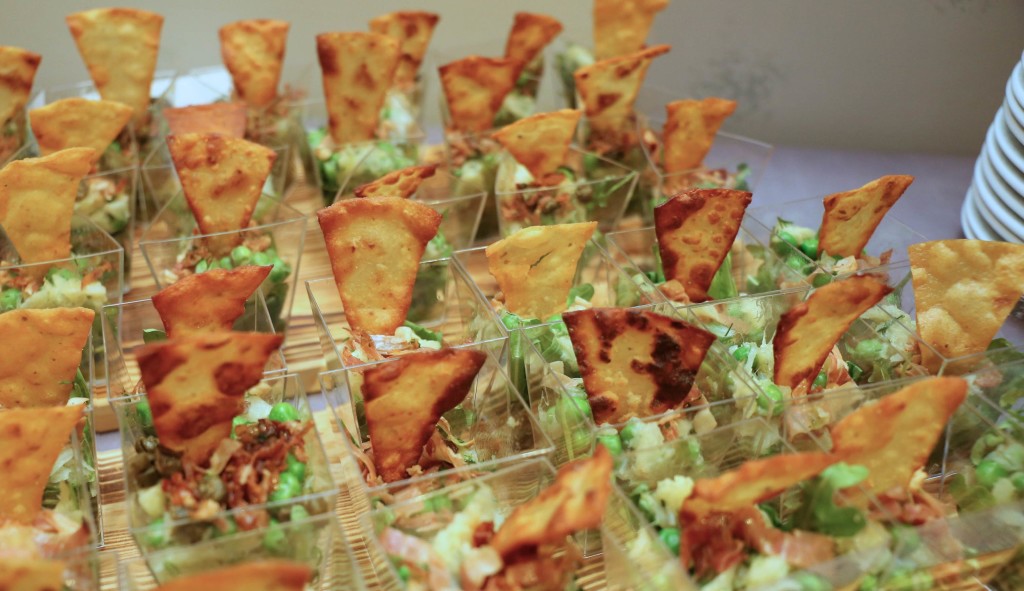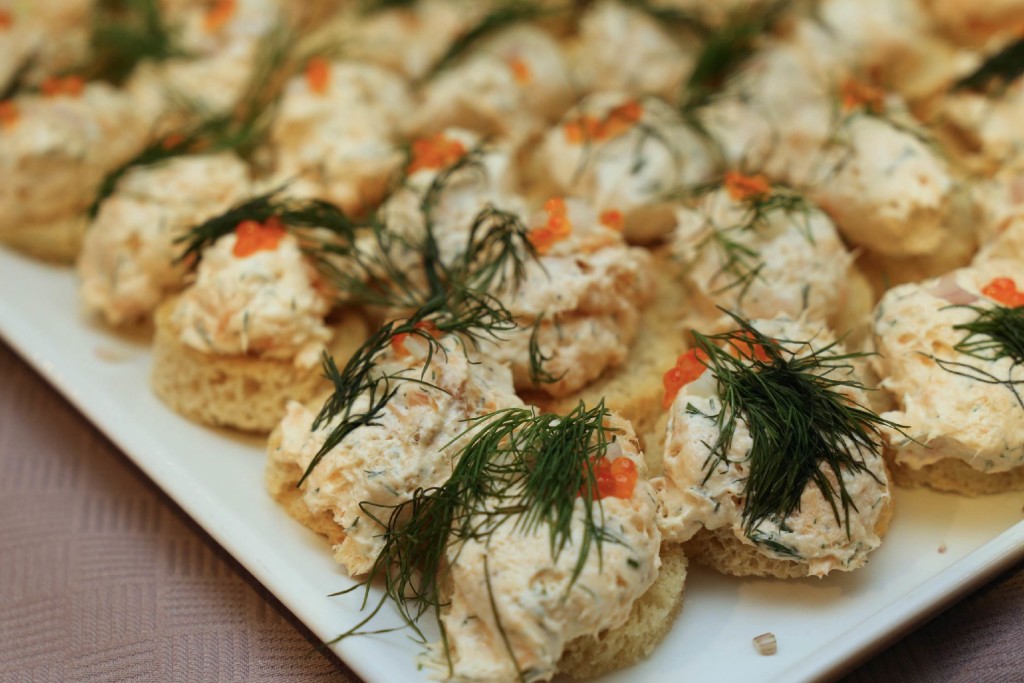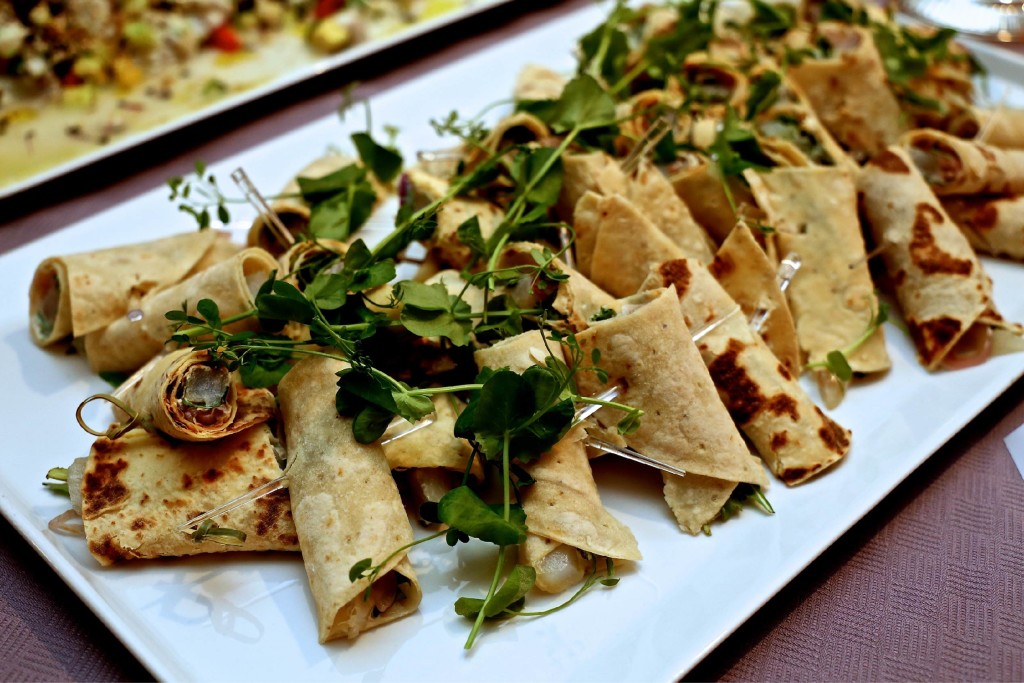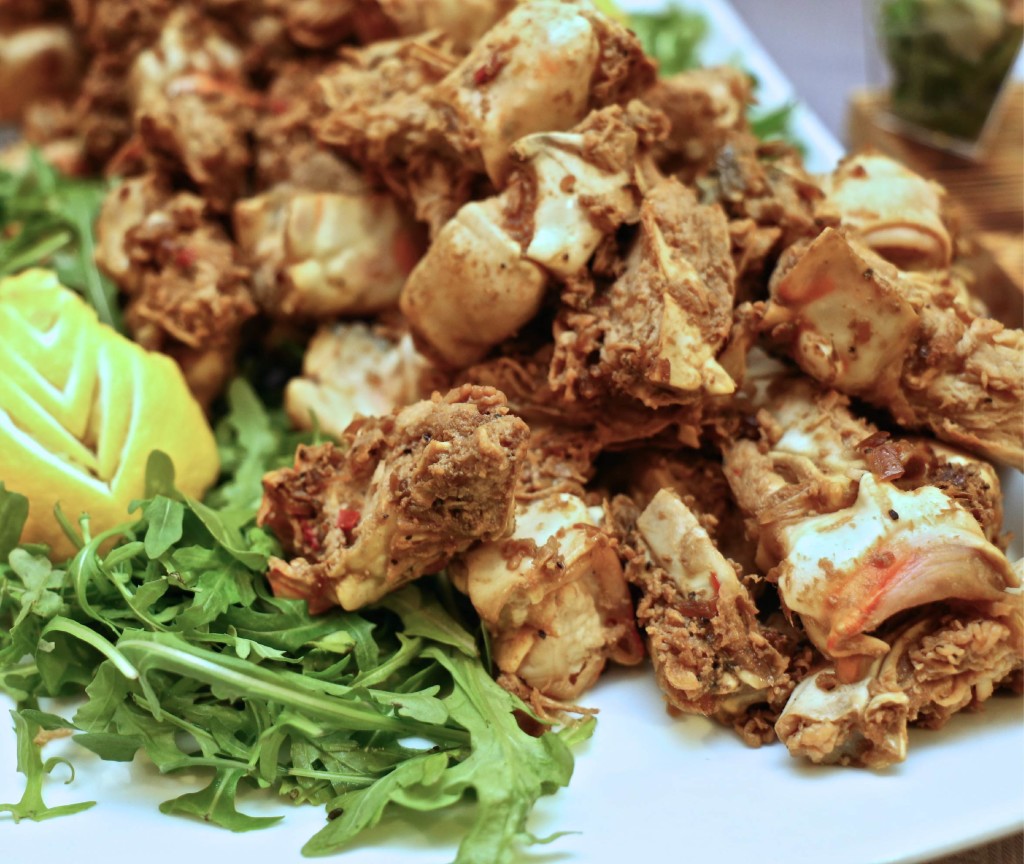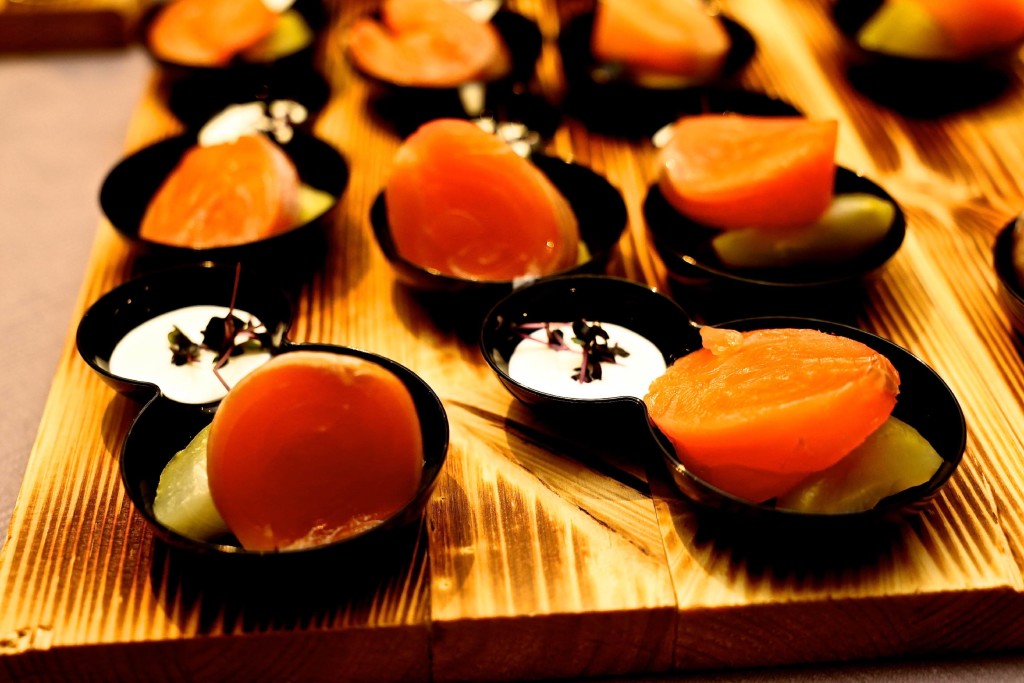 Noen forslag til meny:
Forretter: Varangerplanken
Hyse tartar – Hjerterått, røkt reinkjøtt – Sei med sesam- og Rabarbra Chutney.
1 Black pepper crab.
2 Sukker-saltet røye, pepperrot og syltet agurk.
3 Hyse i lumpe, syltet rødløk, pepperrot dressing.
4 Varmrøkt laks med kakao og chili, rabarbra chutney.
5 Varmrøkt laks med pesto.
6 Laksemousse, flatbrød, løk og rogn.
7 Lutefisk, erter og bacon, fritert potetlumpe.
8 Boknafisksalat med choizo, pesto og byggryn.
9 Klippfiskboller med tomatsalsa.
10 Reke, mango, eple med advocadopuré.
11 Krabbe med chili og melon.
12 Røkt blåkveite, druer og korelander.
13 Hval i IPA, marinert hval, tyttebærk, bakt i søtpotetetchup.
14 En av Smuk sine rein med tyttebær og løkkompott.
15 Torsk, gulrot og skinke. Gulrot og ingefærsuppe med lettsaltet torsk og sprø spekeskinke.
16 Høyrygg av okse med sopp og løk, rødvinssaus og gulløye.
17 Urtebakt lammelår. Rotgrønnsaker, pastinakk og ruccolapuré.
18 Cod is great. Torsk med ertepuré og byggrynsrisotto med krabbe.
Desserter:
20 Barndomsminner. Brunost og jordbær.
21 Kibær. Tyttebær pannacotta med blåbærsaus
22 Sjokoladechili, multesaus.
23 Ost fra Pasvik med gulrotmarmelade og Rabarbra chutney.
  Some suggestions for

the menu

:
Appetizers: Varanger plank
Haddock tartar – Heart Raw, smoked reindeer meat – Pollock with sesame and Rhubarb Chutney.
Main:
1 Black pepper crab.
2 Sugar-salted trout, horseradish and pickled cucumber.
3. Haddock in lump, pickled red onion, horseradish dressing.
4 Smoked salmon with cocoa and chili, rhubarb chutney.
5 Hot-smoked salmon with pesto.
6 Salmon Mousse, chickpea, onion and eggs.
7 Lutefisk, peas and bacon, fried potetlumpe.
8 Boknafisksalat with Choizo, pesto and barley.
9 Klippfish Bowls with tomato salsa.
10 Shrimp, mango, apple with advocadopuré.
11 Crab with chilli and melon.
12 Smoked Greenland halibut, grapes and kore lands.
13 Whales in IPA, marinated whale, tyttebærk, baked in søtpotetetchup.
14 One of Smuk their reindeer with lingonberries and løkkompott.
15 Cod, carrot and ham. Carrot and ginger soup with salted cod and crispy ham.
16 High-backed of beef with mushrooms and onions, red wine sauce and Gulløy.
17 Herb Baked lamb. Root vegetables, parsnip and rocket puree.
18 Cod is great. Cod with pea puree and byggrynsrisotto with crab.
Desserts:
20 Childhood memories. Brown cheese and strawberries.
21 Kiba. Cranberries pannacotta with blueberry sauce
22 Chocolate Chili, cloudberry sauce.
23 Cheese from Pasvik with gulrotmarmelade and rhubarb chutney.
Google trans.