Mollisjok Fjellstue ligger langt utenfor allfarveg, midt på Finnmarksvidda
Fjellstua ligger idyllisk til ved elva Jiesjohka, som har sitt utspring fra Finnmarks største innsjø Jiesjavri, 10 km nord for fjellstua. Jiesjohka er første del av Tanavassdraget, Norges 3.lengste elv. Det er vide vidder og panoramautsikt fra fjellstua. Nordover mot Porsanger reiser fjellmassivet Gaissene seg 1100 m.o.h., Mollisjok ligger på ca 400 m.o.h.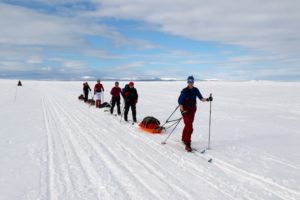 Standarden på fjellstua er enkel. 4-mannsrom med vedfyring, kokemuligheter, selvbetjening og/eller salg av proviant. Ved forhåndsbestilling kan du få matservering i spisesalen. Innkjøp må planlegges langsiktig, da nærmeste kolonial er ca 70 vegløse kilometer unna. Badstua ligger fint til ved elvekanten, og mange benytter muligheten til å avkjøle seg i elva. På grunn av vedfyring og vannbæring må badstua forhåndsbestilles.
Et minikraftverk, i drift fra 1988, forsyner fjellstua med elektrisitet, men ikke nok til oppvarming av rom.
Mollisjok Fjellstue is far off the beaten track, in the middle of Finnmarksvidda
 The lodge is idyllically situated on the river Jiesjohka, which originates from Finnmark's largest lake Jiesjavri, 10 km north of the lodge. Jiesjohka is the first part of the Tanavassdraget, Norway's 3rd longest river. There are wide expanses and panoramic views from the lodge. North towards Porsanger the mountain massif Gaissene travels 1100 m.o.h., Mollisjok is at about 400 m.h.
The standard of the lodge is simple. 4-person room with wood burning, cooking facilities, self-service and / or sale of supplies. Upon pre-order you can get food service in the dining room. Purchases must be planned long-term, as the nearest colonial is about 70 roadless kilometers away. The sauna is conveniently located by the river's edge, and many use the opportunity to cool off in the river. Due to wood burning and water carrying, the sauna must be pre-booked.
A mini-power plant, in operation from 1988, supplies the lodge with electricity, but not enough for heating the room.