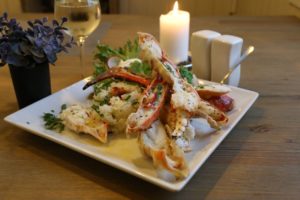 Kongekrabbetallerken
Kongekrabbe tilberedt med 3 ulike smaker. Skuldra og beina er steamet, noe er tilsatt urtesmør når det kommer ut av ovnen og noe serveres helt naturell. Fileten innerst mot kroppen steiker vi i panna før den glasseres i søt chilisaus. Det hele servers med litt salat, ris samt vår peppersaus og mangosalsa.
  Kuningasrapu Plate
King rapu kypsennetty 3 eri makua. Olkapää ja jalat ovat höyrytettyjä, jotain lisätään yrttivalmuun, kun se tulee uunista ja jotain tarjoillaan täysin luonnollisesti. Runko on kehon sisäpuolella, keitämme pannussa ennen kuin se lasitetaan makean chilikastikkeessa. Kaikki palvelimet sisältävät salaattia, riisiä ja pippurikastiketta sekä mango-salsaa.
  King Crab Plate
King crab cooked with 3 different flavors. The shoulder and legs are steamed, something is added to herbal butter when it comes out of the oven and something is served completely naturally. The fillet is on the inside of the body, we cook in the pan before it is glazed in sweet chilli sauce. It's all servers with some salad, rice and our pepper sauce and mango salsa.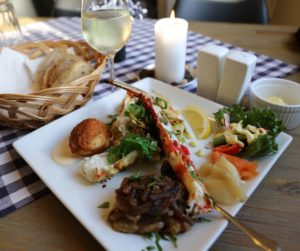 Bugøynes Fiskesymfoni:
Retten består av ulike smaksopplevelser fra havet. Kaldrøkt laks og blåkveite, fiskekake av hyse, stekt fisk med urteløk, samt en smak at kongekrabbe, både naturell og med urtesmør. Det hele servers med rotmos, wokede grønnsaker og litt salat.
 

Pykeija kala Symphony

:
Lautasen koostuu eri makuista merestä. Kylmä paahdettu lohi ja mustakitaturska,
kalakakkuja koljaa, paistettua kalaa haudot ja maku, että kuningas rapu,
sekä luonnollisia että yrttivaha. Koko palvelin, jossa on rotmos, woked vegetables ja jotain salaattia.
  Bugøynes Fish Symphony:
The dish consists of different tastes from the sea. Cold roasted salmon and blue whiting,fish cakes of haddock, fried fish with locusts, and a taste that king crab,both natural and with herb butter. The whole server with rotmos, woked vegetables and some salad.
  Mørbrad av rein
Serveres med fløtegratinerte rødbetter, sopptstuing, litt grønnsaker, tyttebær og rødvinsaus.
  Porotornit
Tarjoillaan kermamaita, sieniä, joitakin vihanneksia, karpaloita ja punaviinikastiketta.
  Sirloin of reindeer
Served with creamed red beets, soup stew, some vegetables, cranberries and red wine sauce.