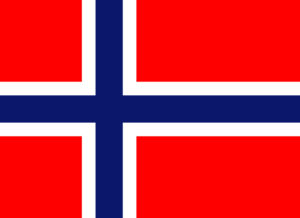 Navnet på hulen har sin opprinnelse fra Pomorhandelstida i Finnmark (ca.1750-1920). En, eller flere pomorskippere hadde vært på handelsreise i Finnmark. Her fikk de ikke solgt alle varene sine og hadde derfor et stort lager igjen om bord. I følge loven kunne de ikke ta varene med seg tilbake til Russland og oppbevarte det derfor i hula, som seinere fikk navnet Russehula. Hulen er også interessant for å oppleve spesielle geologiske forhold.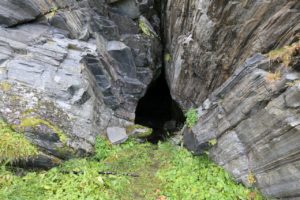 Fra slutten av 1600-tallet er det rapportert at russere handlet ulovlig med fiskere i Finnmark. Hvis en fisker ble tatt i å handle med russerne, kunne kjøpmennene nekte dem vinterforsyninger. Det var meningen at pomorhandelen skulle foregå med kjøpmenn i handelsstedene (Vardø, Hammerfest og Trondheim), og nessekonger rundt omkring. Først i 1789 ble handelsmonopolet delvis opphevet.
I 1796 ble det mulig for alle å handle med russerne, men bare i makketiden. Handelen gav gode vekstvilkår for steder i Finnmark, og lokket dermed folk å flytte nordover. Under Napoleonskrigene på 1800-tallet var pomorhandelen avgjørende for mange, selv om britene prøvde å blokkere handel til Kvitsjøen. For å kunne fortsette å handle med russerne ble Finnmarksesskvadronen opprettet i 1810 for å prøve å beskytte havnene fra britiske skip. Fra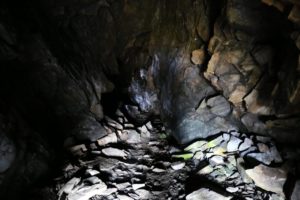 før hadde britene erobret den dansk-norske flåten under et overraskelsesangrep i 1807.
Utover 1800-tallet ble det mer vanlig for fiskere å handle direkte med pomorer, og handelen økte således. Senere ø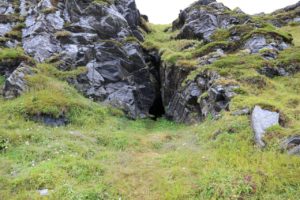 kte handelen mellom større handelshus og Russland.  I Tromsø og Vadsø kunne det sesongvis ligge flere hundre pomorskuter i havnene. Pomorhandelen fortsatte fram til 1917, men allerede rundt 1906, mistet pomorhandelen mye av viktigheten da pomorene gikk over til å selge tømmer for penger fremfor å bytte med fisk. Pomorhandelen hadde en sterk drivkraft i klostrene rundt Kvitsjøen, særlig klosteret på Solovkiøyene som eide flere skip som deltok i pomorhandelen.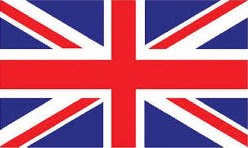 The name of the cave has its origins from Pomor trade time in Finnmark (ca.1750-1920). One or more Pomor ships captains had been on a commercial trip in Finnmark. Here they did not sell all their goods and therefore had a large stock again on board. According to the law, they could not take the goods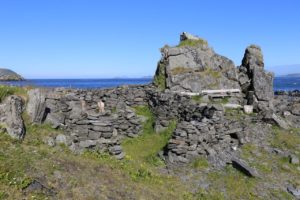 back to Russia and therefore kept it in the hula, which later became known as Russehula. The cave is also interesting for experiencing special geological conditions.
From the late 1600's it was reported that Russians act illegally with fishers in Finnmark. If one was caught trading in the Russians, the merchants could deny them winter supplies. Pomor trade was supposed to take place with merchants in the trading venues (Vardø, Hammerfest and Trondheim) and headlands kings around. Only in 1789 was the trade monopoly partially lifted.
In 1796, it became possible for everyone to trade with the Russians, but only in the early days. Trade generated good growth conditions for places in Finnmark, thus luring people to flee north. During the Napoleonic wars in the 19th century, pomor trade was crucial to many, although the British tried to block trade to Kvitsjøen. In order to continue trading with the Russians, the finnmark squadron was established in 1810 to try to protect the ports from British ships. From before, the British had conquered the Danish-Norwegian flag during a surprise attack in 1807.
In the 19th century it became more common for fishers to trade directly with pomors, and trade increased accordingly. Later, trade between major trading houses and Russia increased. In Tromsø and Vadsø there could be several hundred pomoros in the seasons in the seasons. Pomor trade continued until 1917, but already around 1906, pomoran trade lost a lot of importance when the pomons went over to sell timber for money rather than trade. Pomor trade had a strong driving force in the monasteries around Kvitsjøen, especially the monastery of Solovki Islands, which owned several ships that participated in the pomor trade.
Source: Museums for Coastal Culture and Restoration in Finnmark IKS