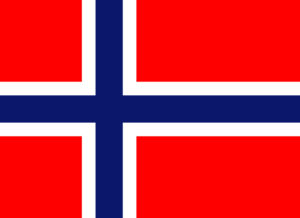 Transport til øyene. Båten er en type katamaran, en kombinasjon av passasjer og bilferge. Den er hurtiggående og behagelig å reisen med. Den kan ta ca. 9 – 10 biler, avhengig av størrelsen på bilene. Den går mellom Hammerfest og Havøysund, – M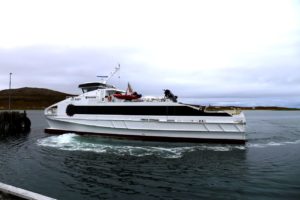 åsøya. I skrivende stund kan man ta ekspressbåten mellom Alta og Hammerfest, skifte båt i Hammerfest videre til øyene og Havøysund og Måsøya. Dette gir videre mulighet for å oppleve den fantastiske RV 889 som er nasjonal turistvei og et fyrverkeri av hav og fjell. Altså en rundtur med båt og buss. Det er mulighet for overnatting på både Ingøy og Rolvsøy.
Husk å bestille rom og bespisning. Det er ikke restauranter og kafe på øyene. Derimot er det gode tilbud for å handle dagligvare.
Avgangen fra Alta ligger ved siden av flyplassen og rutenettet til Norwegian og SAS.
Husk å sjekke avgangene som kan være forskjellige fra dag til dag.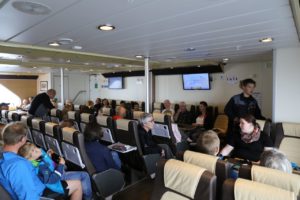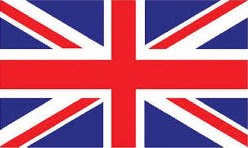 Transportation to the islands.The boat is a type of catamaran, a combination of passenger and car ferry. This is a high speed and comfortable journey. It can take about 9-10 cars, depending on the size of cars. It runs between Hammerfest and Havøysund, – Måsøya. At this writing, one can take the express boat between Alta and Hammerfest, change boat in Hammerfest on the islands and Havøysund and Måsøya. This provides further opportunity to experience the wonderful RV 889 which is the national tourist and a fireworks display of sea and mountains. So a round trip by boat and bus. There is the possibility of accommodation on both Ingøy and Rolvsøy.
Remember to book rooms and dining. There are no restaurants and cafe on the islands. However, it is cheap to buy grocery.
Departure from Alta located next to the airport and the grid to Norwegian and SAS.
Be sure to check the departures which may be different from day to day.
Google trans.
Reiseplanlegger/

Travel Planner:
Her finner du ut når neste offentlig transportmiddel går:
Here you find timetable for your next public transport: