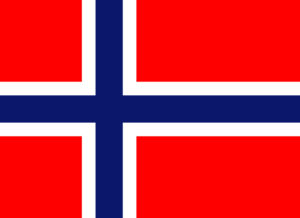 Treriksrøysa mellom Norge, Finland og Sverige
Treriksrøya (svensk Treriksröset, finsk Kolmen valtakunnan rajapyykki) mellom Norge, Sverige og Finland ligger n
ær Skibotn ved 69°03′35.9″N 20°32′55.1″E.
Monumentet ble reist i 1897 av de norske og russiske (som styrte Finland på den tida) styresmaktene. Svenskene ble ikke enige om grensa med nordmennene og deltok ikke med sin stein før i 1901. Dette er også det nordligste punktet i Sverige og det vestligste punktet på det finske fastlandet. Det vestligste punktet i Finland er øya Märket).
Selve trepunktsmonumentet er laga i betong og er forma som ei flat kjegle, og ligger om lag 10 meter ut i innsjøen Goldajärvi. Monumentet ble bygd i 1926 og har en diameter på 4 meter.
En kan nå punktet til fots, 11 km frå Kilpisjärvi i Finland. Om sommeren kan en nå punktet med båt fra Kilpisjärvi og en 3 km lang gåtur.
Kilde og foto:Wikipedia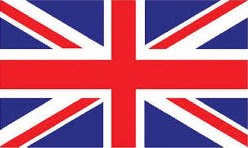 Treriksrøysa between Norway, Finland and Sweden
Three-Country Cairn (Swedish Treriksröset, Finnish Kolmen valtakunnan rajapyykki) between Norway, Sweden and Fin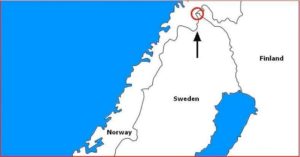 land located close Skibotn at 69 ° 03'35.9 «N 20 ° 32'55.1» E.
The monument was erected in 1897 by the Norwegian and Russian (who ruled Finland at the time) government. The Swedes did not agree on the border with the Norwegians and did not participate with its stone until 1901. This is also the northernmost point in Sweden and the westernmost point of the Finnish mainland. The westernmost point of Finland's island market).
The trepunktsmonumentet are layers of concrete and is shaped like a flat cone, and is about 10 meters into the lake Goldajärvi. Monuments were built in 1926 and has a diameter of 4 meters.
One can now point to foot, 11 km from Kilpisjärvi in Finland. In summer one can now point by boat from Kilpisjärvi and a 3 km long walk.
Source and photo: Wikipedia.
Google trans.
Foto og Illustrasjon: Wikipedia