Skoganvarre kapell er en langkirke fra 1963 i Porsanger kommune, Finnmark fylke. Den ble innviet 7. oktober 1963.
Byggverket er i tre og har 90 plasser. Kirken ble stengt i 2012 på grunn av skader.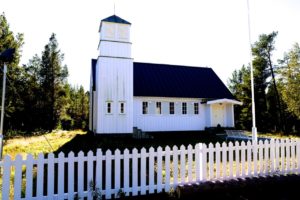 I 2013 tok innbyggere i Skoganvarre initiativ til å rehabilitere kapellet ved å skaffe penger på ulike måter, blant annet ved å selge lodd og samle inn penger, og arrangere dugnader. 7,5 tonn materialer, 1200 dugnadstimer og rundt 30 folk var involvert.
Foreningen kaller seg Venner av Skoganvarre kirke.
5. oktober 2013 åpnet kirka igjen og var klar til bruk. Målet var å pusse opp kirken til 50-års jubileet 7. oktober 2013.
Skoganvarre kapell er et kulturminne og har nummer 85472 i Riksantikvarens kulturminnebase. Kilde: Wikipedia
  Skoganvarre chapel is a church from 1963 in Porsanger, Finnmark county. It was inaugurated on the 7th of October 1963.
The edifice is made of wood and has 90 seats. The church was closed in 2012 because of damages.
In 2013 residents of Skoganvarre took the initiative to rehabilitate the chapel by raising money in various ways, including by selling lottery tickets, raising money and organising voluntary work. 7.5 tonnes of material, 1,200 volunteer hours and about 30 people were involved.
The association calls itself The Friends of Skoganvarre Church.
On the 5th of October 2013 the church reopened and was ready for use. The aim was to renovate the church for its 50th anniversary on the 7th of October 2013.
Skoganvarre Chapel is a cultural monument and is numbered 85472 in the Directorate for Cultural Heritage. Source: Wikipedia