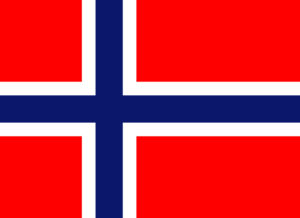 Tyskerenes ortslasarett for hele Finnmark under andre verdenskrig ligger i Porsanger. Ruinene etter sykehuset l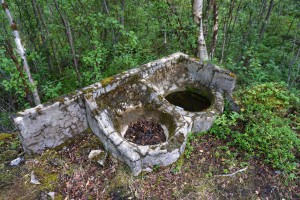 igger ved Skoganvarre.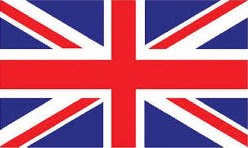 The German's ortslasarett for the whole of Finnmark during WWII is in Porsanger. The ruins after the hospital l Porsanger lasarettmoen lies at Skoganvarre.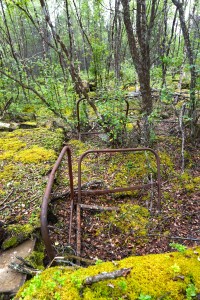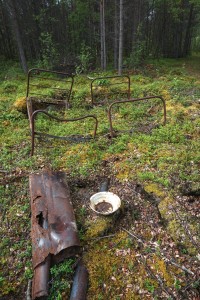 Feltsykehusene Lasarettmoen ligger 2 km ovenfor Skoganvarre imot Karasjok.
Lasarettmoen ligger på vestsiden av elva forbundet med via en en hengebro til en parkeringsplass ved E6. Her kan du se ruinene etter et av de største Wehrmacht hadde i Finnmark. Anlegget var ikke fullført da tyskerne trakk seg tilbake fra Finnmark høsten 1944. De satte da fyr på, og sprengte anlegget. Området ligger urørt slik det ble forlatt og ruinene etter brakkene, rester av senger, ovner, rør og bygningsdeler er fremdeles synlig. Her ble mange soldater fra Østfronten behandlet, men også sivilbefolkningen fikk behandling. Det var også enkelte russiske krigsfanger her. Det var opptil 70 000 soldater på det meste i Porsanger på slutten av andre verdenskrig. Informasjonsskilt er plassert ved parkeringsplass ved E6
  The field hospitals at Lasarettmoen are located 2 km (~1.2 mi) above Skoganvarre towards Karasjok.
Lasarettmoen is lo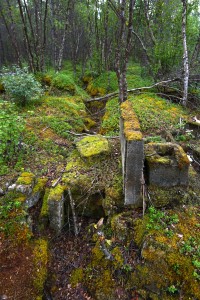 cated on the west side of the river adjoined by a suspension bridge to a car park by the E6. Here you can see the ruins of one of the largest field hospitals the Wehrmacht had in Finnmark. The facility was not completed when the Germans withdrew from Finnmark in the autumn of 1944. They set it on fire, and blew up the facilities. The area has been left untouched since it was abandoned and the ruins of the barracks, remains of beds, stoves, pipes and building elements are still visible. Here many soldiers from the Eastern Front were treated, but also the civilian population received treatment. There were also some Russian prisoners of war here. There were up to 70,000 troops at its peak in Porsanger at the end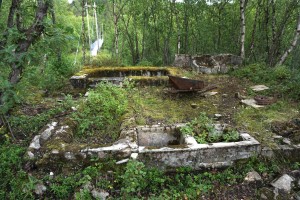 of WWII. Information signs are located at the parking area at E6.