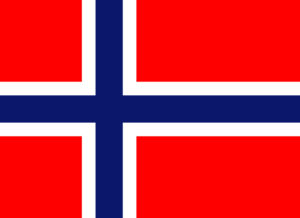 Svanvik kirke fra 1934, er en særpreget korskirke med kraftig takrytter over midten, oppført i upanelt laftet rundtøm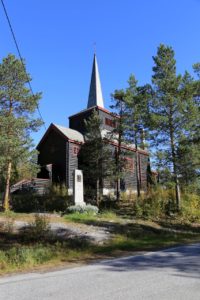 mer etter tegninger av arkitekt Harald Sund. Kirken er preget av en forenklet utgave av nasjonal nybarokk. Koret, som stikker ut i kirkerommets kryssparti, er omgitt av slanke, dreide stolper og baldakinen over alterpartiet er båret av søyler. Over midten av rommet er det et firesidig kappehvelv dekorert av Arthur Gustavson.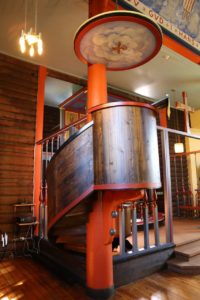 Kilde: Norske kirkebygg
Denne kirken ble innviet 5. september 1934. I tidsskriftet Tidens Tegn i 1936 skrev redaktøren at «det er både innvendig og utvendig en av de vakreste kirkebygningene i landet …» I 1944 lå kirken midt i skuddlinjen for russernes invasjon, men kirken fikk bare mindre skader og ble raskt reparert etter krigen. Kirken har rundt 150 sitteplasser.
Kilde: Sør-Varanger menighet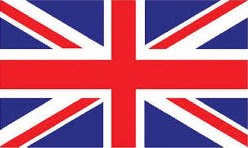 Svanvik church from 1934 is a distinctive cruciform church with powerful turret over the middle, listed in upanelt notched round timber was designed by architect Harald Sund. The church is characterized by a simplified version of the national baroque. The choir, which juts into the church room cross section, surrounded by slender, turned posts and canopy over the alta
r party is supported by pillars. Over the middle of the room there is a four-sided gown vault decorated by Arthur Gustavson.
Source: Norwegian church
This church was consecrated on 5 September 1934. In the journal Future Signs in 1936 wrote the editor that «it is both inside and outside one of the most beautiful church buildings in the country …» In 1944, lay church right in the firing line for the Russian invasion, but the church did only minor injuries and was quickly repaired after the war. The church has around 150 seats.
Source: Sør-Varanger parish
Google trans.