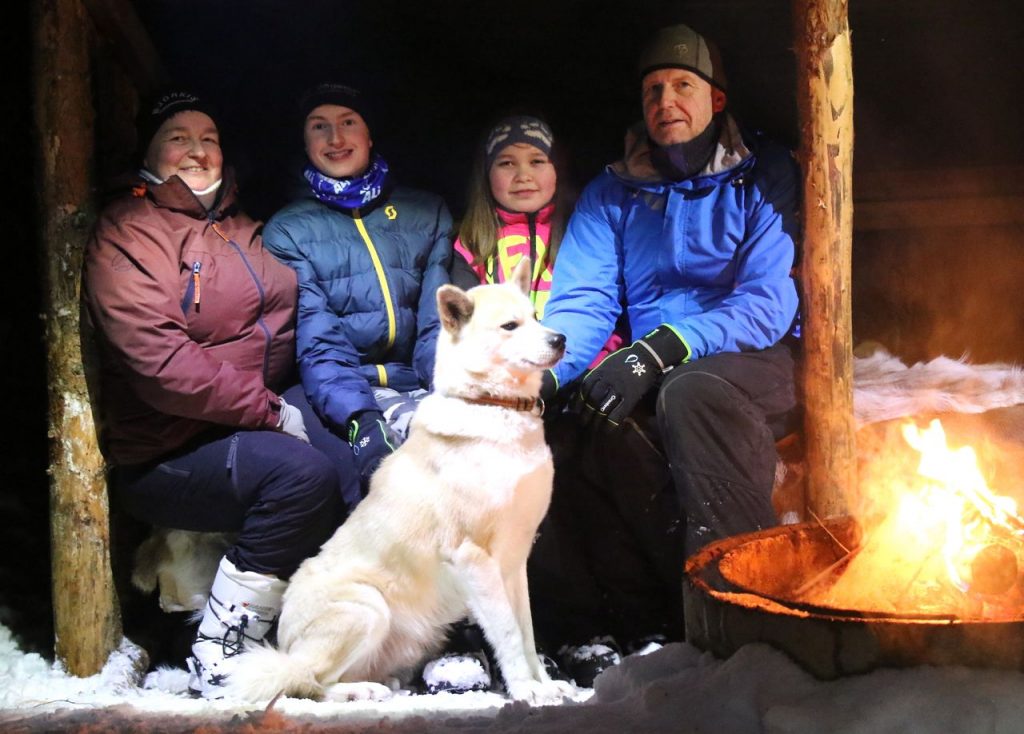 Velkommen til oss. 🙂
Kom med ekte finnmarkinger ut på vinteropplevelser. Finnmark er "Winter wonderland" og du kan fylle livet med minner for livet.
Bli med Stengelsen Husky, – familien Holten's lille familiebedrift som består av 30 huskyer og fire familiemedlemmer. Ole Johnny er "overhode", men Siv Camilla er sjef. Barna, Isak og Madelen fyller teamet med ungdommelig kraft.
Ole Johnny deltar også i det 1200 km og krevende Finnmarksløpet med hundespannet. Da bor han en uke på meiene bak på sleden. Familien er "handlere" som sørger for at hundene blir tatt godt vare på under løpet og de sørger for alt rundt Ole Johnny og hundene fungerer. Finnmarksløpet er den store happeningen her i vinterlandet.
Du skal ha et koselig minne fra en vinteropplevelse i Finnmark. Alle vi fire er født og vokst opp i et fantastisk vinterlandskap og har hundekjøring og fjellturer som lidenskap. Våre hunder elsker mennesker. De kommer til å møte deg med yrhet og glede. Å dele vår lidenskap skal gjøre din opplevelsen helt spesiell.
Våre gjester, som kommer fra hele verden, får den største opplevelsen med små grupper inntil fem personer. Større grupper arrangerer vi sammen med andre kenneler som tilbyr turer med sledehunder. Du kan kjøpe kortere eller lengre turer på flere dager. Vi har leir med lavvu (samisk telt) som endestasjon og egen hytte for turer med overnatting.
Du blir kledd opp med varme klær så du ikke blir kald på turen.
NB! Noen har spesielle behov for å kunne delta på slike turer. Vennligst gi beskjed om dette på forhånd.
Adress: Stengelsen Husky, Gargiaveien 25 A
N-9518 Alta
Telephone: +4795162065 
Vi gleder oss til å ta deg med på tur.
  Welcome to us. 🙂
Join «real Finnmarkinger»on winter adventures. Finnmark is the «Winter wonderland» and you can fill life with memories for life.. Finnmark is the «Winter wonderland» and you can fill life with memories for life.
Join Stengelsen Husky, the Holten family's small family business, which consists of 30 huskies and four family members. Ole Johnny is «head», but Siv Camilla is the boss. The children, Isaac and Madelen fill the team with youthful vigor.
Ole Johnny also participates in the 1200 km and demanding Finnmarksløpet with the dog team. Then he lives a week on the meadows at the back of the sled. The family is «handlers» who take care of the dogs during the race and they take care of everything around Ole Johnny and the dogs work. Finnmarksløpet is the big event here in the winter country.
You will have a cozy memory from a winter experience in Finnmark. All four of us are born and raised in a fantastic winter landscape and have dog sledding and mountain walks as a passion. Our dogs love people. They will meet you with diligence and joy. Sharing our passion will make your experience very special.
Our guests, who come from all over the world, have the greatest experience with small groups up to five people. Larger groups we organize together with other kennels that offer sled dog tours. You can buy shorter or longer trips in several days. We have a camp with lavvu (Sami tent) as an end station and our own cabin for trips with accommodation.
You get dressed up with warm clothes so you don't get cold on the trip
NB! Some have special needs to participate in such trips.
Please let us know in advance.
Address:
Stengelsen Husky
Gargiaveien 25 A
N-9518 Alta
Telephone: +4795162065
We look forward to taking you on tour.