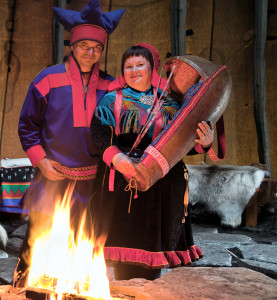 Samisk kultur har mange tusen år gamle røtter, og er preget av det naturlige miljøet i Barentsregionen
Rundt ti samiske familier flytter hver vår sine reinsdyr til Nordkyn for sommerbeite. Kulturen på Nordkyn er preget av samiske tradisjoner.
Samisk kultur vektlegger harmoni med naturen, og er sterkt knyttet til reindrift, kystfiske og urtemedisin.
Det finnes mange muligheter for å oppleve samisk kultur på Nordkyn. Flere kulturrettede turer tilbys, og det er også mulig å bestille reservasjon for en autentisk Samisk middag i lavvu – om ønskelig også med overnatting!
  Sami culture has many thousand year old roots, and is characterized by the natural environment of the Barents Region
Around ten Sami families move their reindeer to Nordkyn for summer grazing every spring. The culture at Nordkyn is characterized by Sami traditions.
Sami culture emphasizes harmony with nature, and is strongly linked to reindeer herding, coastal fishing and herbal medicine.
There are many opportunities to experience Sami culture in Nordkyn. More culture-oriented trips are offered, and it is also possible to book reservation for an authentic Sami noon in lavvu – if desired also with accommodation!