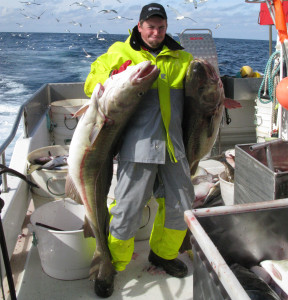 Nordkyn har Barentshavet som nærmeste nabo. Et eventyrlig fiske venter den som vil prøve lykken.
I Kjøllefjord får du et innblikk i yrkesfiskerens hverdag når du blir med de på jobb ut på havet. Hjelp til å trekke liner, garn og krabbeteiner eller ta over juksa. Du kan også bare kaste ut med egen fiskestang. En smakebit av fangsten serveres ombord på vei tilbake, og etter endt tur kan du ta din del av fangsten med på land. Dette er en tøff og sikker opplevelse i toppmoderne fiskebåter. Bli med på havet og nyt ekte fiskehistorier, med fangstgaranti!
Mehamn Brygge og Rorbuer arrangerer også fisketurer.
De tradisjonelle fiskegrunnene i Barentshavet utenfor Mehamn har gitt levebrød til mange Mehamnfiskere gjennom tidene.
Våre gjester har gjort gode fangster på torsk, steinbit og kveite i Barentshavet, bare noen minutters båttur ut fra rorbuanlegget. Vi tilbyr sikre og sjødyktige utleiebåter, komplett fileteringsanlegg med frysekapasitet og tørkerom for klær.
Du kan også delta på havfiske med guide og kaptein fra oss.
  Nordkyn has the Barents Sea as its closest neighbor. An adventurous fishing experience awaits those wishing to try their luck.
In Kjøllefjord you get an insight into the professional fisherman's everyday when you join them for work on the sea. Give a hand with drawing ropes, nets and crab pots or take over the jig. You can also just go at it with your own fishing rod. A sample of the catch is served on board on the way back, and after completing the tour you can take your share of the catch back on land. This is a tough and safe experience on state of the art fishing boats. Join us on the sea and enjoy real fishing stories, with a catch guarantee!
Mehamn Brygge og Rorbuer also organizes fishing trips.
The traditional fishing grounds in the Barents Sea outside Mehamn has provided a livelihood for many fishermen throughout history.
Our guests have gotten good catches of cod, catfish and halibut of the Barents Sea, just a few minutes boat trip from the cabins. We offer safe and seaworthy boats for hire, complete facilities for filleting and freezing as well as a drying room for clothing.
You can also participate in sea fishing with a guide and captain from our staff.