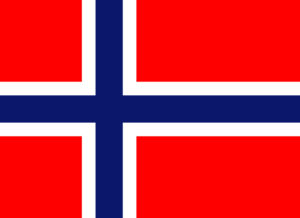 Til minne om brenningen, raseringen, tvangsevakueringen, rømmingen og frigjøringen høsten 1944
Høsten 1944 brukte de tyske okkupantene på retur den brente jords taktikk i Finnmark og Nord-Troms . Befolkningen fikk ordre om tvangsevakuering, men mange trosset dette og flyktet.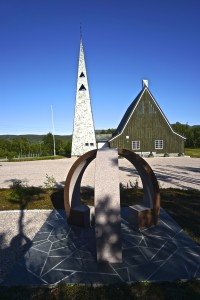 Flere ble drept av okkupantene, og andre mistet livet som følge av påkjenningene
Tropper fra den sovjetiske røde arme befridde Øst-Finnmark med store ofre. Soldatene stanset i Rustifjelbma de 8. November.
I Tana ble de møtt av en takknemlig sivilbefolkning Etter et kortere opphold trakk de seg tilbake og ble avløst av norske styrker.
Ansvarlige, norske myndigheter gjenopprettet rettsamfunnets institusjoner og organiserte hjelp til en hjemsøkt befolkning.
De rammede lot seg ikke knekke av okkupantenes hensynløse handlinger og tok straks fatt på gjenreisingen.
Minnes med beundring og respekt.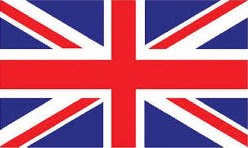 In memory of the burning, razing, forced evacuation, escape and liberation fall of 1944
Autumn 1944, used the German occupiers on returning the scorched earth tactic in Finnmark and North Troms. The population was ordered forced evacuation, but many defied this and fled.
Several were killed by the occupiers, and other lost their lives as a result of the rigors
Troops from the Soviet Red Army liberated Eastern Finnmark with great sacrifices. The soldiers stopped in Rustifjelbma the 8th November.
In Tana they were met by a grateful civilian population After a shorter stay they withdrew and was replaced by Norwegian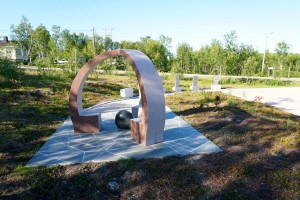 forces.
Responsible, Norwegian authorities recovered the right social institutions and organized using a haunted population.
Those affected would not be defeated by occupants' reckless actions and immediately took hold of the reconstruction.
Recalls with admiration and respect.
Google trans.